William Joseph Casey
CIA Director 1981-1987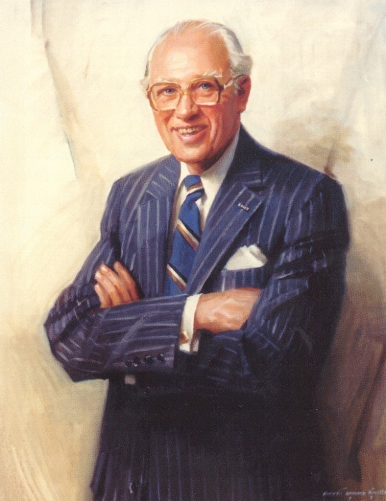 Portrait by Everett Raymond Kinstler, 1984
Quick Facts: DCI William Casey
William J. Casey was probably one of the most corrupt men to serve the CIA, yet remain "loyal" to the US government. Casey left the CIA with a poor image, which his successor William Webster struggled to improve.
He was born in New York City on March 13, 1913. He attended Fordham University and recived a B.S. (Bachelor of Science) in 1934. Then he attended St. John's University and recieved a LL.B. (Bachelor of Laws) in 1937.
Casey started out his career life as a lawyer and businessman. In 1943, he was commissioned into the US Naval Reserve. That same year, he joined the Office of Strategic Services (OSS), the predecessor of the CIA. In 1944-1945, he served as Chief of Special Intelligence Branch in European Theater of Operations for the OSS.
In 1971, he became Chairman of the Securities and Exchange Commission. He left that position in 1973 and became the Under Secretary of State for Economic Affairs, where he served for a year.


Image from Central Intelligence Agency
In 1974, he was the President and Chairman of the US Export-Import Bank. He left in 1976 to become a member of President Ford's Foreign Intelligence Advisory Board.

In 1980, he was the Campaign Manager for presidential candidate Ronald Reagan.

On January 20, 1981, President Ronald Reagan appointed William Casey the Director of Central Intelligence (DCI). This appointement was confirmed by the Senate on January 27, 1981 and Casey was sworn in the next day.

Many instances plauged Casey's career as DCI...as well as the Reagan Administration. These includ the Iran-Contra Affair, the Manuel Noriega crisis, the trafficking and dealing of drugs through CIA agents and informants, and other things.

The role casey played in the Iran-Contra Affair and the Manuel Noriega crisis will never be known. Casey died of a brain tumor before anyone was able to find out. Most information one will find on the Iran-Contra Affair will make little note of William Casey's involvement. His death is one reason. The other is that he played a background role - though it was still significant as far as we can guess.

Casey's involvement with Manuel Noriega was, however, much more significant. Manuel Noriega became dictator of Panama because of the CIA's involvement. Casey reportedly flew to Panama to visit Noriega on different occasions. In 1985,
Casey personally invited Noriega to Washington DC. During that visit, Noriega visited the Pentagon, the National Security Council, and spent the afternoon at the CIA with a two-hour visit with Casey.
When the drug conflict grew, the US ambassador to Panama, Arthur Davis, held a private meeting with Casey. Casey told Davis that "if anyone should know about this guy's involvement with drugs it's us and we have no proof at all that he's involved." Davis said later that Casey was "in love with the guy."
The DEA wanted to arrest Noriega for alleged drug trafficking, but the CIA denied them of that. Finally, DEA agent Dan Moritz and Assistant US Attorney Richard C. Gregorie started to work on Noriega. They were helped by Floyd Calton, Noriega's personal pilot.


Image from National Heritage Center
On February 4, 1988, Noriega was indicted. By this time, Casey had died from a brain tumor.

He felt safe, however, with George Bush's election. He had met Bush, a former CIA director, on at least three occassions. But he was not safe. The new CIA director, William Webster did not stand beside him like Casey had. He was arrested in Operations Just Cause and was convicted in a Miami court on July 10, 1992.

But Manuel Noriega didn't really claim too much of Casey's time. The last couple months of his life were dedicated to the Iran-Contra Affair. It is my personal belief (after reading James McCullough's "Personal Reflections on Bill Casey's Last Month at CIA." McCullough was the Director of the DCI/DDCI Executive Staff.) that Casey did not know as much as people think he did. McCullough claimed that when ABC's 20/20 show had Adnan Kashoggi on their show. Kashoggi was a Saudi Arabian businessman who had played the middleman financing the role in transactions between the National Security Council (NSC) and Iran. While Casey and McCullough were watching this show, McCullough claims that Casey kept adding comments like "Jim, did you know that?" or "Gee, I didn't know that' the way it worked!"

After reading this article, my personal opinion of Casey changed greatly, and I recomend
anyone who is reading this right now, to read that article. I have put a link to it at the bottom of this page.
DRUG AFFAIRS
Casey suffered a stroke in his CIA office just after 10 a.m. on Tuesday, December 15, 1986. He was taken to the Georgetown University Hospital where it was discovered he had a tumor on the left side of his brain. The tumor was cancerous and a five-hour operation removed it. He was left nearly unable to communicate with those around him. His term as DCI ended on January 29, 1987 - 45 days after his stroke.
William J. Casey, former Director of Central Intelligence died on May 6, 1987, silencing the voice of the one person who knew more about the Iran-Contra Affairs than anyone else.
Another photo Photo from CIA website
Please visit: Casey's Last Month at the CIA
Sources: Spying for America, by Nathan Miller and Black Eagles, by Larry Collins, plus other various sources.